Building Online From The Ground Up.
Construction Growth Framework
The same way a project requires planning and preparation so does your social media marketing. Your social media requires its own Pre-Construction, Construction, and Post-Construction process. And that's what our Construction Growth Framework is all about.
Before you start any project, you need the plans (blueprints). Your marketing strategy is your blueprint for how you plan to build your marketing program. It will tell us to whom we are marketing, what matters to them, where they spend their time online, and how we can get in front of them. Your marketing strategy ensures that you aren't performing random acts of marketing and instead are intentional and strategic.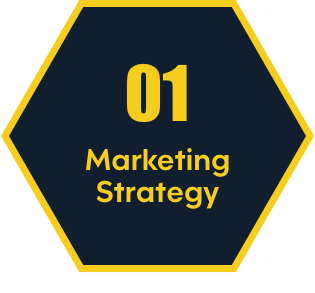 Now that we have the marketing strategy (blueprints), we will lay the foundation for your marketing program. This is where we capture everything your company does through content brainstorming, planning, and thought leadership, and then find supporting content like photos and videos of your job sites. This content will be a part of the foundation on which we build.
Now we bring both the marketing strategy (blueprints) and content capturing (foundation) together. Your marketing strategy ensures we're developing the right messaging for the right people. The content capturing will evolve into content about your story, people, partnerships, projects, culture, and more. The photos and videos will be a supporting element we leverage to drive the main point home.
It's now time to share your message, purpose, company, culture, and projects with the world. We distribute your content on all the major social media channels. Then we rinse and repeat the Content Capturing > Content Creation > Content Distribution process over and over again.
Benefits of our Construction Growth Framework
Keeps you top of mind with your customers.
Your employees are proud to be a part of.
Your competitors want to copy.
Attracts the best talent.
You feel proud to call your own.
The truth is that we aren't for everyone. If you don't check all the boxes, it doesn't mean we can't work together. But the following is true for our most successful partnerships:
Are a commercial construction contractor ($5-100M in annual revenue) doing business in the U.S.
Have executive leadership that understands the importance of marketing.
Have subject matter experts on their team that deeply understand their trade.
Possess a strong company culture of which both their employees and clients can speak highly.
Want to align their business strategy to their marketing strategy.
Are interested in long-term strategy and not quick, cheap fixes.
Work on amazing projects all-year-round.
Are willing to invest in a comprehensive marketing strategy and program.
We are an OSHA 30 Certified growth marketing agency.